Ice Blast -
Skill.
Description
Edit
Upgrades Fireball. An area-effect spell which damages and slows enemies - or you!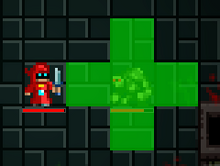 Deals the same damage as Fireball to all enemies in a plus-shaped area. Like Fireball, damage dealt increases with the Wizard's Spell Damage talent.
Inflicts a -5 Speed debuff on hit.
Recharges faster with Intellect.
This can hit you and your allies, be very careful using this skill.
Regardless of whether Ice Blast hits the main target, other targets will still take damage or resist the skill separately.
The -5 speed can stack, making a significantly powerful slow.
Ad blocker interference detected!
Wikia is a free-to-use site that makes money from advertising. We have a modified experience for viewers using ad blockers

Wikia is not accessible if you've made further modifications. Remove the custom ad blocker rule(s) and the page will load as expected.